A digital or printed personal voucher (in English, German or Dutch) is valid for 6 months and costs €150,-
You can order a gift voucher by sending me an email meydenberg@gmail.com.
I don't work in a permanent studio at the moment. Instead, I have moved my work area to home shooting.
Which means that I will come to people's homes (or office, or another location of choice) and shoot their portrait. I've been doing this for a while now and I have enough experience to say that I can photograph (almost!) anywhere. I love the challenge of not knowing where my next photo session will be. It's a lot of improvising and creating in the moment but that is exactly what my work is all about.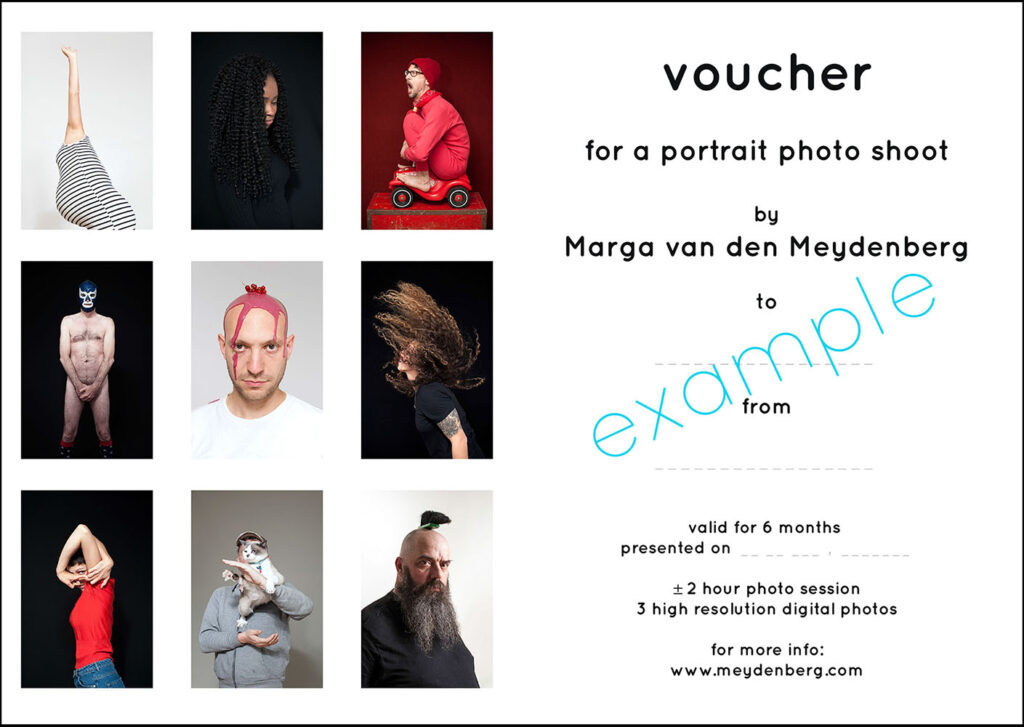 ---
What you will get:
a creative portrait photo shoot for 1 person
± 2 hour photo session at your place or on location (within Berlin)
3 high resolution digital photos by email
---
every extra photo € 30,-
every extra person € 50,-
(for private use only)
I also work in the Netherlands and where life takes me, just let me know where you live and we will find a way.
If you have any questions or crazy ideas, just write me an email, I'm happy to hear from you!
❤️ Marga
---
---
review
Gina, November 2020, Berlin.
"One look at Marga's website and it's clear she has a natural talent for capturing uniqueness and personality. This is exactly what I was looking for when I got my heart set on finding someone to take pictures of me and my belly during my first pregnancy. I nearly gave up because any Google search for maternity photographers returns a slew of cheezy and boring pictures. Luckily, I stumbled upon Marga's work in a Facebook thread calling out local Berlin artists. She was quick to respond to my request with a fair price and flexibility around scheduling. What I loved most about working with Marga is that the shoot was quite spontaneous resulting in photos that far exceeded what I thought was possible given the little resources I had on hand (we took the photos in my dining room with just a few pieces of clothes from my closet and some house plants). She offered advice and direction when needed but otherwise, she just let me do my thing. I will cherish these photos and remain forever grateful to have found someone as special and kind as Marga. :)"