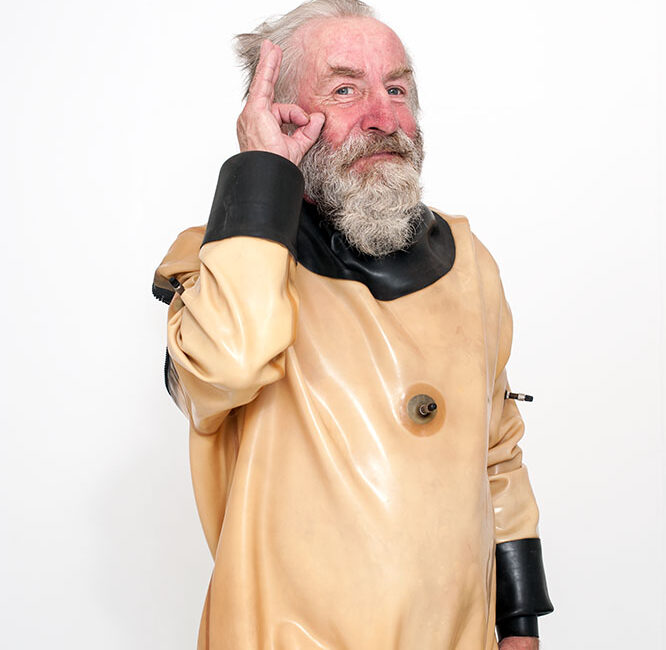 Rubber fetish
After years of doing a lot of street photography, I got to know Berlin pretty well. I roamed the city and went to festivals, street parades, demonstrations and other events. More often I started to recognize faces and characteristic people who also went to the same places. One of them was an older man who walked around in an old rubber wetsuit, which I found very fascinating.
A few years later I had a Pop Up photo studio in the gay district in Schöneberg, nearby Nollendorfplatz. My studio was located in a gallery that sat between two leather gay shops. One day when I was taking portraits, a man walked in, with his rubber suit half on, and asked me if I would take a picture of him. I recognized the Rubberman immediately! And was, of course, very willing to photograph him. I asked him to wait until I had finished my shoot, hoping that he would not walk away.
Fortunately, he was sitting outside on my bench waiting for his turn. I sat with him and we chatted a bit, while he drank warm beer from a plastic bottle. He showed me a few heavily torn pictures of him in various rubber outfits and told me that his favorite one was his black rubber suit.
I explained to him that for a shoot you pay what you are willing to pay. He confessed that he didn't have any money. Instead he carried a big bag of old books with him and was happy to pay me in books. Which I thought was an excellent deal.
For the photo shoot, I asked him to fully put on his rubber outfit. It wasn't easy for the old man, because the hot summer day made him sweat a lot. He posed for the picture in a typical way, in one hand the pump (to bring air into the suit) and with his other hand he made a strange gesture. I tried to get him to pose differently, but he didn't quite understand and after a few photos he was done.
I wanted to know what his email address was so I could send him the photo, but he didn't have one. He also didn't really have a permanent address to send a print to. We agreed that he would come back to my studio to pick up a photo print and bring his favorite black suit to take a few more photos. A week later he returned. I was busy taking pictures when he walked in. I gave him his photo, which he liked, and I asked him if he had brought his black rubber suit. He looked a little confused and told me he forgot and promised to come back later. He left my studio and I went back to work.
Unfortunately, he didn't return and to this day I haven't seen the Rubberman again.