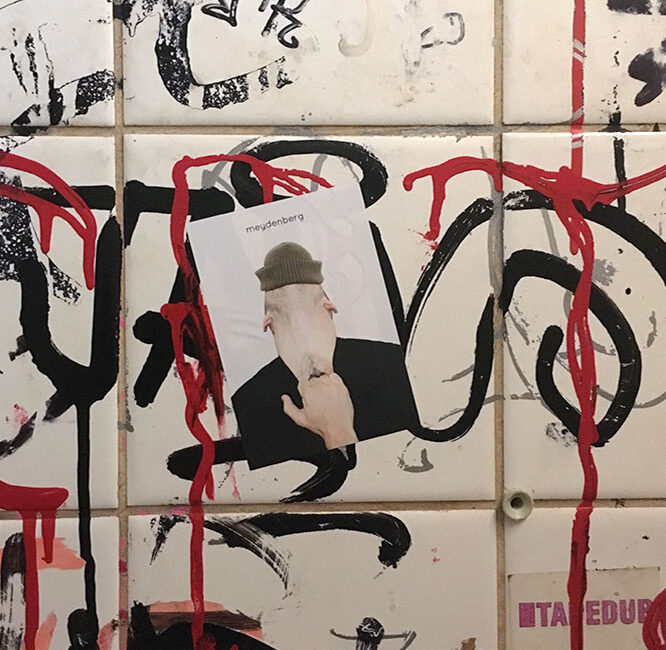 The story behind one of my all-time favorite photos.
In December 2016, I had a Pop Up photo studio in Mitte at Kunsthaus KuLe. On my very last day, half an hour before I had to close my studio, Hugo and Remy walked in. Two young guys who had been tipped off by the two girls I had photographed earlier in the week. We had a nice short conversation and I photographed Remy first because I was fascinated by the wet spot on his butt. The saddle of his bike was broken and like a sponge in the rain, leaving him with wet pants.
Hugo was wearing a beanie, because it was cold outside. I asked him to put it on his face. (Why? Probably inspired by a postcard that was hanging above my desk for years; a great photo of Gerard Fieret taken by Dutch photographer Koos Breukel.) Hugo had a beautiful long neck and could bend his head back quite far, which is not so easy! Then his tattoo peaked out above his sweater and I asked Remy if he could pull it down a bit further with his hand. And that's how the photo appeared. They left and I closed my studio. Very excited about that one photo! Sometimes I just know that I made something special, I can feel it in my stomach. But of course I still had to wait until I got home and could see the photo on my computer; is it sharp? am I right?
This picture is probably one of my all time favorites! Because the photo is kind of a mindfuck; people don't immediately see what they're looking at. Is it an animal? A pig? Some see a vagina!
I love pictures that do something to your brain, photos that grab your attention and raise questions. I made a sticker of the picture and try to stick it on everything as much as possible, hoping that it challenges people's minds a bit and will leave them with a smile.