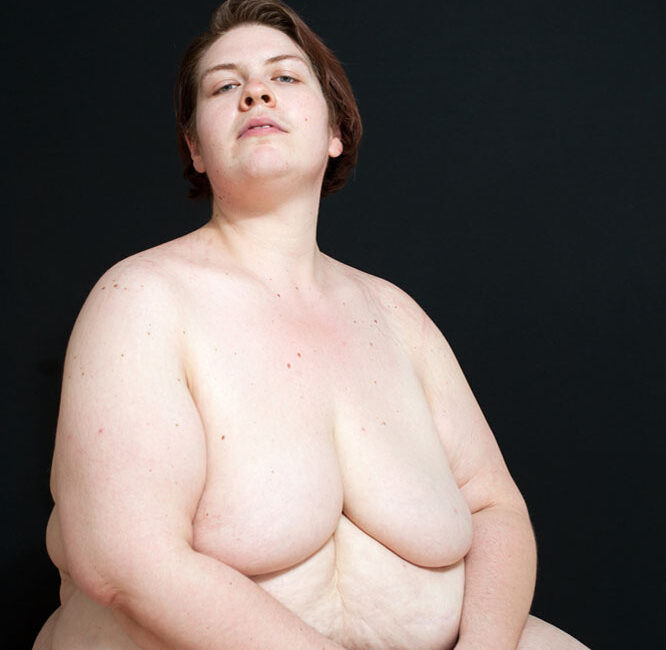 a photo series about body positivity
In June 2018 I had a Pop Up photo studio at Misfit Models agency in Pankow-Berlin. Lisa contacted me via Facebook for a photo shoot. On her profile, I noticed that Lisa is quite curvy and very aware of her own body. With that in mind I wondered if I could make nude portraits of her.
During the shoot we both felt comfortable, so I asked her if she wanted to show more of her body. We ended up with her naked in front of my camera. I found it very brave of her and this photo is still one of my favorites.
We kept in touch through social media, where I noticed that she was becoming more and more engaged with body positivity and fatphobia. November 2021 we met again at the presentation of Lara Verheijden's Berlin nude calendar, in which Lisa became the January model.
A few weeks ago I asked her if she felt like doing another creative photo session together. I went to her house in Weissensee, where she had the idea to do naked yoga in her backyard. The weather was perfect and because of that there were other neighbors and kids hanging out in the community garden.
Lisa asked them if they were okay with us taking nude photos and thankfully that was no problem!
While chatting, she told me that our first photo shoot was a big change in her life. It was the very first time she had nude pictures taken and it was a turning point in her relationship with her body. From that moment on she changed to radical self-acceptance and became very open about her binge eating disorder and depressions. She learned how to better deal with the outside world, which has often a very negative opinion about being fat.
I had no idea that our first shoot had such a big impact. It makes me feel very grateful that I was part of the major change in Lisa's life. I often forget that with my camera and creative vision I can really connect with people and make a difference in someone else's life.
Aside from being a body activist and nude model, Lisa is a fashion and accessory designer. She works with recycled materials and plastic waste, creating inclusive and fat-positive fashion and accessories in a sustainable way. For more info check her website: www.a-fat-future.com